Episodes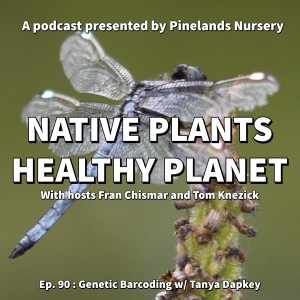 Friday Jan 28, 2022
Friday Jan 28, 2022
Hosts Fran Chismar and Tom Knezick talk with Tanya Dapkey (Lab Manager, Aquatic Macroinvertebrate Lab at the Patrick Center for Environmental Research) of The Academy of Natural Sciences in Philadelphia, PA. They discuss Genetic Barcoding and how it relates to insects,  what the genetic barcoding of insects can teach us about stream health and a multitude of other things, the advantages and disadvantages to this technology, what the future holds and what we still need to learn.  Music by Egocentric Plastic Men.
Follow Tanya Dapkey - Website / Twitter / Instagram
Delaware River Watershed Initiative - Website 
Follow Barcode of Life Systems - Website 
Follow GenBank - Website
Follow 500 Women Scientists Philly Pod - Website / Blog
Have a question or a comment?  Call (215) 346-6189.
Follow Native Plants Healthy Planet - Website / Instagram / Facebook / YouTube 
Follow Fran Chismar Here.
Buy a T-shirt, spread the message, and do some good.  Visit Here.